Sewer Water Damaged Carpet Restoration Is Easy: Learn Steps Here
Sewer water damage has become a common problem that people face several times. It usually happens because of toilet backflow, or drain backup. The main reason behind sewer water damage is the overflow of water in the sewer and broken pipelines which leads to the accumulation of dirty and stinky water inside our homes in various areas including bedrooms, living rooms and kitchens. Sewer water damage in home damage the carpets completely because carpets are always placed on the ground and water reaches them quickly. And carpet fibres absorb water quickly. It can lead to a huge predicament if not treated the problem on time therefore, taking help from a Flood Damage Restoration Sydney service becomes absolutely necessary.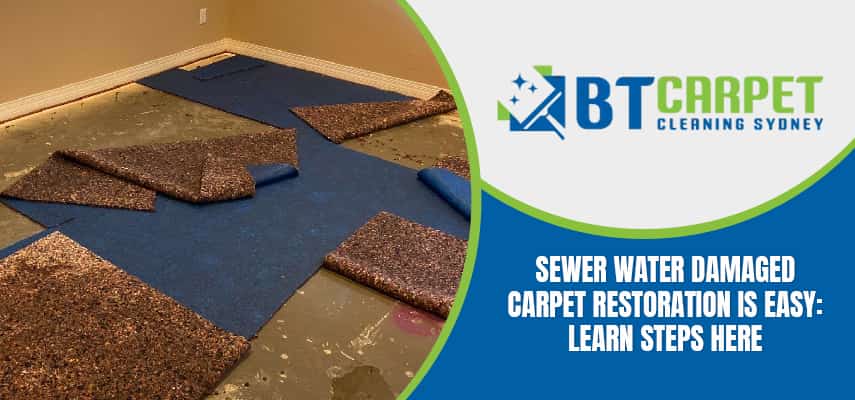 Here are The Tips to Restore The Sewer Water Damaged Carpets
The initial and most important step that you need to take is by repairing the broken pipes. If you do not do it at first then the overflow of water will not stop and the water will reach the entire house and make the problem worse.
Later you have to remove the damaged carpet and pack it into a sealed bag and keep it outside your house because a damaged carpet can cause many health problems too.
After the sewer water damage carpet paddings must get destroyed. Therefore, asking for suggestions from experts would be a safe idea.
While doing these things make sure you are wearing gloves, masks and goggles because direct touch with the dirty carpets can lead to skin infections.
If the carpet is damaged for more than 70 hours then you will have to replace it. Because after 70 hours moulds grow on carpet quickly.
The best option left in these situations is to call a reliable and professional carpet water damage restoration service provider because they can handle the situation easily with the application of efficient tools which people usually do not have in their homes.
Where to Seek Help
Welcome to BT Carpet Cleaning Sydney this is a place where you can get the best solutions if you have water-damaged carpets inside your house. We have a team of professionals who have been toiling in this industry for more than 2 decades. Our technicians are experienced and have all the required tools to repair all types of damaged carpets perfectly. You can avail of our Flood Damage Restoration Sydney at affordable costs. We provide same day booking services too. So get in touch with us now for more best offers.